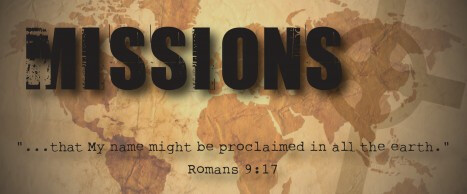 MISSIONS AT WPBC:
Windsor Park Baptist Church is committed to fulfilling the Great Commission as given by our Lord Jesus.
18 Then Jesus came to them and said, "All authority in heaven and on earth has been given to me. 19 Therefore go and make disciples of all nations, baptizing them in the name of the Father and of the Son and of the Holy Spirit, 20 and teaching them to obey everything I have commanded you. And surely I am with you always, to the very end of the age."
Through the giving of the members of Windsor Park Baptist Church, we support missionaries and mission organizations in both home missions and foreign missions.
We support missionaries in America, Canada, Nicaragua, Papua New Guinea and Ethiopia. Windsor Park strives to help send the Gospel of Jesus Christ to the world.
We are very blessed and honored to be able to support the following missionaries
Mark and Rusti Griffin
E-Mail: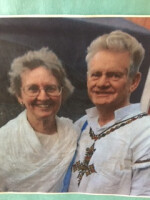 Spring 2016
Four of us went to monitor and encourage the work of Ethiopian Addis Kidan Baptist Church and it was the best trip ever. It has been 27 years since 3 churches joined to form the denomination. Today there are 151 churches and preaching points with approximately 30,000 members. The last year has been one of growth both in numbers and in spirit.
They have been dreaming of and planning for a headquarters office building since the beginning. They have rented houses for use in the meantime. Last year I laid the cornerstone for their new office building and this year the first floor is complete and they have moved in. The superstructure is up for 3 more floors to be used as more office space, a training center, and a guest house. They will add floors as they get the money to build. They are excited and happy to be in their own headquarters.
There are now 3 mobile Bible Schools in rural areas. Last year 34 students graduated from the first mobile Bible School in the Kembatta area. Addis Kidan has churches in 9 zones of the country and more mobile Bible Schools are needed. The format is to send a teacher out from Addis for a week of training in a rural area. The complete program is for 12 months. Churches provide money for transportation and lodging for the leaders they send. It works because the leaders stay connected to their home churches and they are able to immediately put to use all that they have learned.
There is a lot of new work among the Oromo people and there are now trained leaders who speak Oromina. We visited a church in the city of Ambo that began just a little over a year ago and they now have over 300 in attendance. They are building classrooms so that they can have kindergarten classes through the support of Compassion International. The church is also the site of one of the mobile Bible schools. A countryside church has already sent 1000 birr and a truck full of eucalyptus poles to help with the building. They have promised more lumber.
A church in Addis started an outreach in Sebeta two years ago. They now have 300 members and are reaching out to start churches in 6 more nearby areas. There is a lot of optimism and joy among the believers.
The greatest development was in Menz where we began the work 47 years ago. Today there are open doors to preach the gospel at many Orthodox churches in that mountain area. The first believers in Menz joined another denomination after a few years. Their church is no longer attended and the believers in that area do not meet regularly. They say that they have children and grandchildren who are believers but they do not worship anywhere. They are eager to return to fellowship with Addis Kidan and are working to build a church in a central community area. We plan to go there and hold a 3 day meeting a year from now. We are trusting the Lord to breathe new life into the believers as they gather just as He did 42 years ago at a large 5 day meeting in Mehal Meda. It was the start of a great movement of the Spirit in Menz.
By Lauralee Lindholm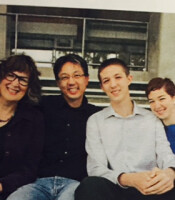 Larry and Kim Hayashi
Wycliffe Bible Translators
E-Mail: